A nearly invisible rooftop wind turbine has won the €500,000 Postcode Lottery Green Challenge 2009. "It's beyond a dream," said English entrepreneur Dean Gregory when Skype founder Niklas Zennström, a contest juror, announced his name. "This means we can focus solely on bringing this to market." Gregory entered the Challenge on behalf of the English company The Power Collective Limited – after finding out about it two days before the deadline.

Each year, the Dutch Postcode Lottery gives away €500,000 to the inventor of the best climate-friendly invention.

The RidgeBlade "has great potential to reduce emissions," said Greenpeace Netherlands' executive director Liesbeth van Tongeren, another juror, who read out the jury report at Friday's award ceremony. "The adaptation of an existing technology is innovative, and the production cost makes it affordable and attractive for consumers."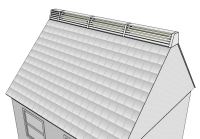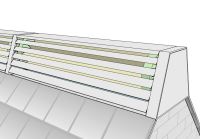 RidgeBlade an innovative, affordable and effective way of harnessing the wind's power to produce renewable electricity.

RidgeBlade addresses the issues associated with traditional micro-wind generation technologies. The unique design means it can reliably produce electricity in low or variable wind conditions whilst creating very little visual impact. This means that it is suitable for locations including urban houses, rural buildings and environmentally-sensitive sites such as National Parks.

The RidgeBlade is fitted on the ridge line at the top of a building and uses the existing roof area to collect and focus the prevailing wind. This is where the wind is forced to travel over the roof surface, accelerating the airflow though the turbine.

The RidgeBlade generates electricity in a wide variety of wind conditions making it a quiet, discrete and effective way to reduce carbon emissions and cut electricity bills. We think it is what the world has been waiting for.

The RidgeBlade is produced by the Power Collective; a team of highly motivated individuals drawn from the worlds of aeronautic design and engineering, specialist manufacturing and the environmental industries.