New Energy secretary Ed Davey has pledged to tackle soaring power bills in the first few weeks of his new job.
He will set out new plans that will allow homeowners to group together to buy cheap gas and electricity at knock-down rates. Bills have soared over the past five years.

The plans are based on the principles of the 'Groupon' website, which features discounted gift certificates for members that can to buy expensive products cheaply.

Mr Davey, 46, who was Consumer affairs minister in the Department for Business, has spent the past few months developing the plans with Chris Huhne, who quit as Energy secretary yesterday.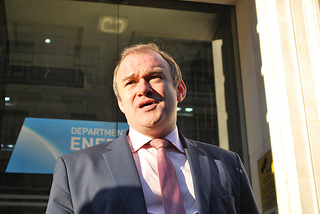 Mr Davey signalled the plans in his first public statement as energy secretary on Friday, as Britain was bracing itself for sub-zero temperatures this weekend.

Speaking from the steps of his department, he said: "I have now got to take up the challenges, the challenge of climate change, the challenge of energy security.

"I am particularly conscious of the impact on consumers' households across the country of high energy bills."

Mr Davey hinted that he was going to continue with Mr Huhne's controversial plans to increase the number of wind-farms across the country.

He said he was committed to "a green economy where there's lots of green jobs to help growth in our economy".

He added: "I am determined to work to follow on Chris's priorities, the Liberal Democrats' priorities, the Coalition government's priorities and make them my priorities.

"I want us to have a green economy where there's lots of green jobs to help growth in our economy."

Mr Davey's promotion to the Cabinet marks the high point of a career in politics which began just six months after he graduated from university.

The Liberal Democrat MP for Kingston and Surbiton has won plaudits for handling the thorny issue of Royal Mail privatisation as a minister in Vince Cable's Business Department since the coalition Government came to power.

But his involvement with the party stretches back to 1989, when he found a job as an economic researcher shortly after graduating from Oxford.

After his election as an MP in 1997, he was chief of staff to former leader Sir Menzies Campbell and was appointed as foreign affairs spokesman by Nick Clegg.

A member of the modernising "Orange Book" wing of the party, his time on the frontbench he was thrown out of the Commons for a day in 2008 after clashing with deputy speaker Sir Michael Lord in a row over Europe.

Between his first stint working for the Lib Dems and his election in 1997, Mr Davey worked as a management consultant, specialising in postal companies.

This background meant he was ideally placed to take through the coalition's privatisation plans for the Royal Mail.

As Postal Affairs Minister, he has enthusiastically argued the case for selling off the Royal Mail – disclosing his plans in an interview with The Daily Telegraph in 2010 - despite fierce opposition from the Communication Workers Union.

The vacancy left by Mr Davey in the Department for Business was filled by Norman Lamb, a whip and a parliamentary aide to Deputy Prime Minister Nick Clegg.

Mr Lamb's job was split between Jenny Willott, Lib Dem MP for Cardiff Central, who appointed an assistant Government whip while East Dunbartonshire MP Jo Swinson took Mr Lamb's old post as parliamentary private secretary to Mr Clegg.

All of the jobs had to go to Lib Dems under the terms of an agreement which set out how many Lib Dems should be in Government, which was hammered out at the formation of the Coalition in May 2010.

The Coalition Agreement for Stability and Reform states: "The Prime Minister, following consultation with the Deputy Prime Minister, will make nominations for the appointment of Ministers.

"The Prime Minister will nominate Conservative Party Ministers and the Deputy Prime Minister will nominate Liberal Democrat Ministers."